THE KELLER SISTERS - Hourglass Dance
THE KELLER SISTERS 
Album : Hourglass Dance.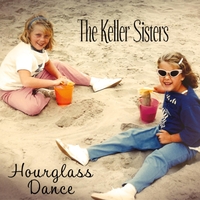 website : https://www.thekellersisters.com/
facebook : https://www.facebook.com/thekellersisters/
label : Eigen Beheer
music : https://store.cdbaby.com/cd/thekellersisters3
video : https://www.youtube.com/watch?v=Tyb7p_RzWP8
"Raise Your Glass" .... for The Keller Sisters ! Wij waren hen bijna uit het oog / oor verloren maar  Sheryl Thirlwall / vocals, rhythm guitar en Kerry Carranza / vocals  zijn met "Hourglass Dance" opnieuw aan de country / folk / pop / roots / "Green Eyed" blues horizon verschenen. Met "House of Cards" (http://www.bealestreet.be/index.php/cd-recensies-februari-2015/1098-the-keller-sisters-house-of-cards) lieten the Keller Sisters een fraaie indruk en ondergetekende was dan ook razend benieuwd of hun 'Americana from San Mateo, CA' anno 2018 nog steeds tot de verbeelding spreekt....
Bealestreet. Be kan u onmiddellijk gerust stellen  : songtitels als opener "Swing", "We're Dancing" en "Crazy"  laten misschien vermoeden dat dat de dames op "Hourglass Dance" (Eigen Beheer)  iets ruiger voor de dag komen maar hun schitterende "Labor of Love" verzameling van ' childhood memories , relationships, love, loss and the passing of time' teert nog steeds op het zelfde boeiende luisterstramien : great vocal harmonies en sublieme muzikale ondersteuning van Jenny Kerr / banjo, producer / multi - instrumentalist Philip "Philbillie" Milner / guitars, keys, percussion, Mike Anderson / bass, Henry Salvia / piano, melatron, organ, Rob Hooper / drums, percussion, Kyle Patrick O' Brien / violin, mandolin, Johnny Bush /bass en ....Loretta / Studio Dog (!) laten er geen twijfel over bestaan : de (h)eerlijke acht songs van Sheryl Thirlwall zorgen niet alleen voor een klein halfuurtje streling voor de oortjes maar door de diverse muziekstijlen op dit must have album schitterend te combineren ook voor een pittig stoofpotje . Smakelijk ! (Swa)