Freddie Pate – I got the Blues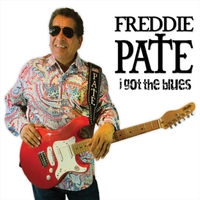 Website: www.freddiepate.com
Facebook: https://www.facebook.com/freddiepatemusic/
Twitter: https://twitter.com/freddiepate
Label: eigen uitgave
Video: https://www.youtube.com/watch?v=9F6EoSiRsp8
Tracklist:
Let the juke joint jump
Sho Nuff
Have you ever loved a woman
Hey good lookin'
Nothing takes the place of you
I got the Blues
Hello Josephine
My babe
Jolie Blond
Dance with my Baby
Beer drinkin' dog
Freddie Pate is eigenlijk al heel zijn leven muzikant. Hij begon akkoorden te leren toen hij 4 was. Live optredens begonnen op zijn achtste. Toen hij zeventien jaar oud was verhuisde hij naar Houston (Texas) waar hij vooral in de country scène als sideman zijn ding mocht doen. Nog een twintig jaren later vertrok hij naar Louisiana om samen met Wayne Toups de wereld rond te reizen. De laatste tijd vertoefde hij weer regelmatig in de Texaanse staat waar hij optrad samen met Delbert McClinton en ook deelnam aan de cruises van laatstgenoemde. Het was op één van die cruises dat hij Mike Zito heeft ontmoet. De heren konden het goed met elkaar vinden, zowel op muzikaal gebied als persoonlijk, en het was dan ook Mike die aandrong op het maken van een Blues cd. Niet evident, want Freddie was vooral bezig in het country milieu. Na "Crossroads" uit 2016, het country album, nu dus in 2018 "I got the Blues", een blues album. Het hele project werd opgenomen in de nieuwe MARZ studio van Mike Zito, waar hij naast het spelen op de ritme gitaar ook de productie voor zijn rekening heet genomen. Het moest, volgens Freddie, een "authentiek album worden dat zowel het genre alsook de artiesten alle eer en krediet geeft".
Naast Mike schitteren ook Terry Dry op basgitaar, Matt Johnson op drums en Lewis Stephens aan de toetsen. Freddie zelf speelt gitaar en doet ook al het zangwerk. De cd is een mix van covers en nieuw origineel werk. "Let the juke joint jump" is een coole opener met goed gitaarwerk en degelijke zang, en een song die door Koko Talor groot gemaakt werd. Echte blues is met "Sho Nuff" (I do) van Elmore James. Dat de man de zes snaren en de fret goed weet liggen moge ten laatste duidelijk zijn op "Have you ever loved a woman", eigen werk evenals die andere originele en titelsong "I got the Blues", een leuke shuffle. Goede bewerkingen zijn ook nog "Hey good looking" van Hank Williams en "Hello Josephine" van Fat's Domino.
Kortom deze "I got the Blues" is een voltreffer. De inbreng van Mike Zito is voelbaar, maar het is toch de stem van Freddie en zijn gitaarspel die het verschil maken tussen een cover en een eigen interpretatie van een nummer. (Jepe)
---